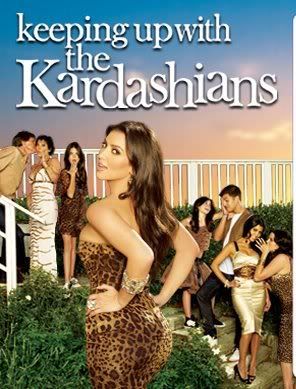 OK, fine, are you happy? I've finally confessed I'm a closeted fan of "Keeping Up with the Kardashians". There. I said it. I feel better now that my secret is out in the open. So now, let's dish about those wacky Kardashians...
Is it wrong of me to be completely grossed out by Kourtney Kardashian shamelessly wearing the body hugging dress she was wearing? I mean, you could see every bump on her body! Whatever happened to pregnant women wearing shapeless dresses? Honey, we all know you're pregnant, but DAMN I don't need to see every curve of your pregnant belly, and every curve of your buttcheeks.
This reminds me – I am also completely grossed out by pregnant bellybuttons that stick WAY out. I'm sorry ladies if you or someone you love had some crazy alien bellybutton when you/they experienced pregnancy. Thank the Lord – I was blessed with an bellybutton that just stretched for 1,000 miles and stayed completely intact.
In another tangent – I have a thing for bellybuttons, so maybe that is why pregnant, extended ones gross me out. I love a male bellybutton set on a fine set of washboard abs – like the ones here on sexy Ryan Reynolds…HOLY SHIT, RIGHT? I actually don't mind a cute "outie" bellybutton. I only mind them when they stop looking like bellybuttons and start looking like very tiny penises.
So back to the Kardashians. Other things I must confess about this TV show – I think I have a non-sexual crush on Kim Kardashian. She is so BEAUTIFUL – I am in awe whenever I see her and just want to stare at her because I think she is just so darn pretty. Beyond pretty. Beyond beautiful. She's just simply perfection. I am obsessed with her hair and makeup and outfits. I think part of the reason I tune into the show is just to see her. I even think her mother – Kris Jenner is stunning. It's just unfair that some people are blessed with the right combination of genes, isn't it?
And what the hell is wrong with Kourtney's baby-daddy, Scott? This episode I saw last night – he got rip-roaring drunk and proceeded to make a giant ass out of himself. And when I say "giant-ass out of himself" – I mean an even bigger one than the one he makes out of himself on a daily basis. Way bigger than that. It's like 10x bigger than that. The show ended with Kourtney changing the locks on her house and locking Scott out. Perfect.